Mon kit
Puig Pare-brise Custom I Honda
Puig Pare-brise Custom I Honda
Aidez-nous à mieux vous servir.
Entrez votre code postal afin de confirmer certains frais qui peuvent variés selon l'endroit de livraison.
Votre article a été ajouté, voulez-vous aller au panier d'achat maintenant?
Voir le panier
Ce produit existe aussi en kit. Voulez-vous magasiner en kit?
Valider que chacune des pièces sont à la fois compatibles entre elles et avec votre véhicule.
S'assurer d'avoir tout pour permettre l'installation ou l'utilisation du produit.
Composer un ensemble de vêtement bien agencé.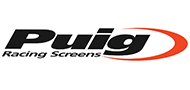 If you are looking to protect yourself and the motorcycle against possible inclement weather and from the cold, the Puig Custom I windshield is the ideal option. Manufactured in high-impact acrylic, material that guarantees high resistance to possible impacts and great aerodynamic capacity, it will adapt perfectly to your bike thanks to its design inspired by the Puig Street Screens line. It is a very good-looking fairing, adaptable to the great majority of motorcycles, thanks to its simplicity and functionality and it is offered in clear and smoked finish.

In addition, with its 4 attachment points, two to the handlebar and two to the forks, it will ensure that the piece is fixed to the motorcycle strongly.

It is an easy-to-assemble fairing that also comes with Puig's classic instructions booklet so the installation of the windshield is a quick one.

The part contains ABE38007 and TÜV approval certificate.
Liste des numéros compatibles avec le numéro Kimpex :
Code à barre :0840000000873

Numéro de fournisseur :0840W

Numéro dans le catalogue Kimpex :360945
Liste de numéro de manufacturier (OEM) additionnels :